description & Manifest
Discover How You Can Get Approved To Sell THE WORLD'S MOST POPULAR BRANDS On Amazon... 



Nike, Adidas, Michael Kors, Puma, Under Armour, And So Much More…
This is a simple, done-for-you process that removes the doubt and headaches of navigating the Amazon approval process.
 You WILL get approved… 

 You WILL sell on the world's LARGEST marketplace… 
… and IF you stick to your guns… 
 

You WILL make money! 

From The Desk Of: Ryan Nichols
About: Your Amazon Badge
Re: Your Future Profits And Freedom
Dear Future Amazon Seller,
Want to start selling on Amazon?
If you want to sell easily and profitably, you should.
I've helped dozens of people get approved to sell top-notch brands.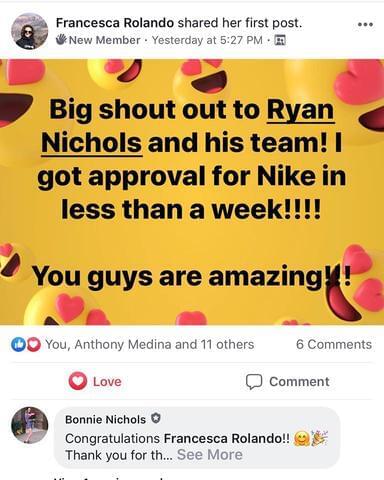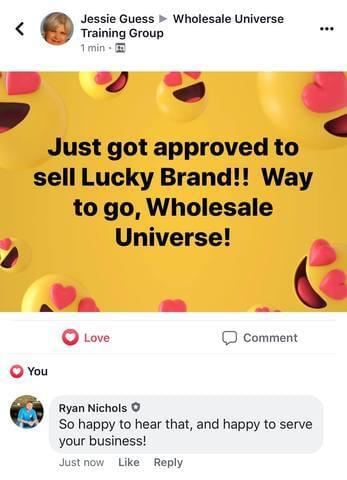 Amazon is more profitable than any other platform I know of.
Remember…
9 out of 10 customers price check on Amazon first...
And 4000 items are sold on Amazon PER MINUTE.
So if you want to make the big bucks… SELL ON AMAZON.
But not so fast.
You see, they don't just let ANYONE sell on their platform.
Because they're such a big company, they attract all types of sellers…
… including the FRAUDS.
So they need to take steps to protect themselves from people selling fake products on their website.
The best way to do that…
Make sure sellers are getting their products from a LEGITIMATE WHOLESALER.
That's where I come in.
I've been doing business with Amazon for _5+_ years.
They KNOW I'm legit and honest.
ALL my products are straight from the manufacturer and not some cheap knock-offs from India or China.
I'm a straight shooter who DOESN'T rip people off in back-alley deals.
Plus, I FILL THEIR POCKETS WITH CASH (like what I'm about to do to you)...
So when I give them your name and say…
"Hey, John here wants to sell Nike on your website..."
They pay attention. Because when I drop your name, you're not just one of the dozens who try to get approved.
Your name is getting dropped by a legitimate, verified Wholesaler that has PROVEN time and time again to bring in legitimate sales.
You get an automatic 'IN' with the "Everything Store".
You decide what brand you want to sell on Amazon

You give me $1997 $997

I tell Amazon your name and what brand you want to sell

​You get approved

​You start making money with the approval & products we provide.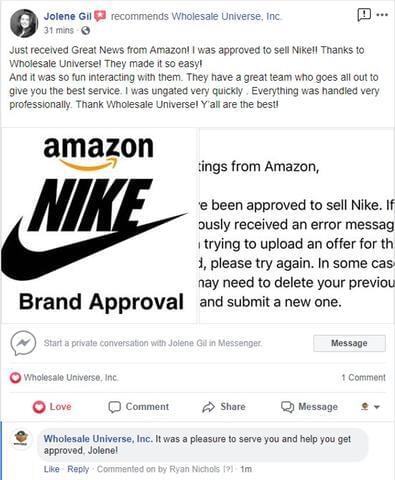 Simple enough right?
That's the whole process for money and FREEDOM. 
Freedom to watch cartoons with your kids when everyone is stuck in rush hour traffic… 
Freedom to go for a hike in the woods when everyone else is waiting for their lunch break… 
Freedom to live life how YOU want to live it.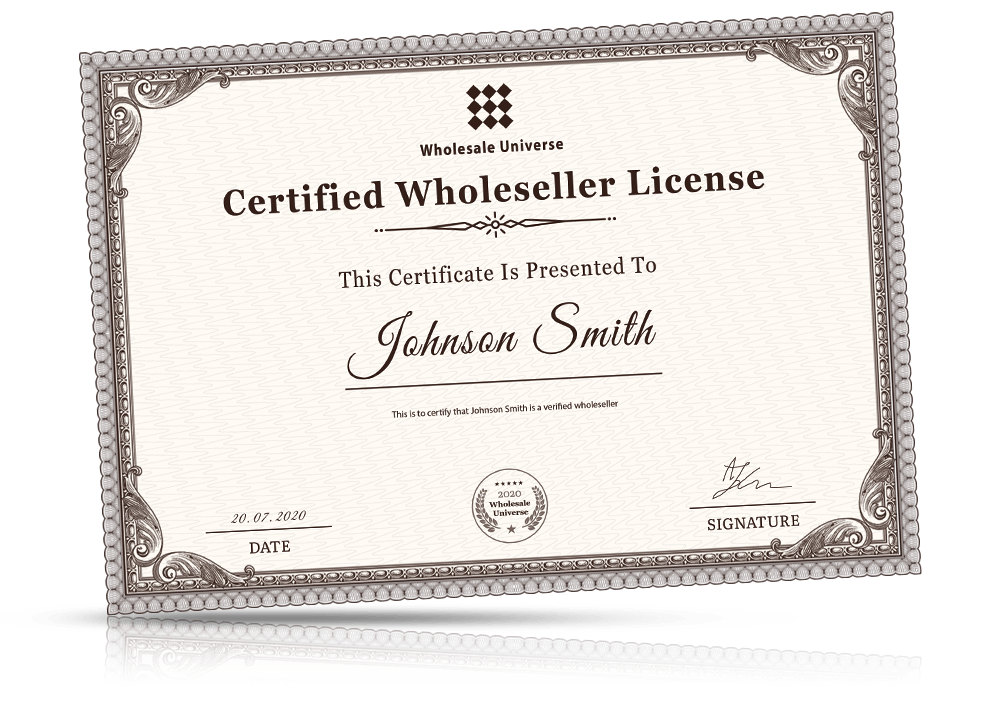 Get started now RISK-FREE by clicking the button on this page.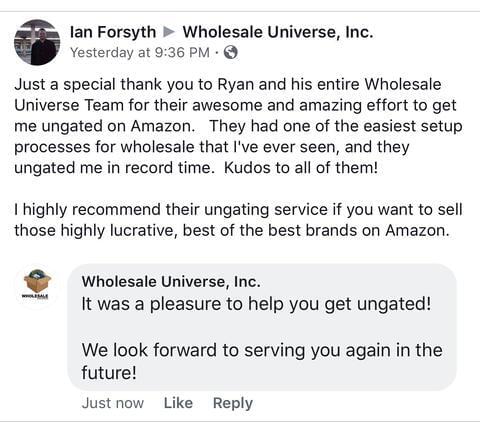 Here's what you're getting:
The 'Keys To The Amazon Kingdom'.
Think about that…
The largest virtual marketplace in the world... 
With 49% market share of ecommerce in the United States… 
And it's YOURS to sell on. 
The Best Money Back Guarantee On The Internet
This is the SIMPLEST guarantee you'll ever get.
If you don't get approved we'll give you your money back. 
Every. Single. Penny. 
It's that simple. 
The last thing I want is bad Karma lurking over my shoulder so if we can't get you approved…. You pay NOTHING! 
Glad You're Still With Me!
You probably scrolled to the bottom of the page.
All good. I do it all the time.
Here's what I have for you: A simplified and no BS process to get approved on Amazon for ONE brand. 
You don't need to contact Amazon…
… or speak to any lawyers.
Just let us do the heavy lifting…
… while you sit back and get approved.
Sound too good to be true?
I've heard that before.
I know I did before I started Wholesale Universe.
That's why you're completely covered by our 6 month money back guarantee. If you don't get approved... I'll pay you back every single penny.
Most folks get approved within just a few days, but sometimes Amazon takes forever and your approval may not go through for roughly 5 months (which is why you should start NOW).
That's why you have a full 6 month guarantee!
If you don't get approved like we promised, we'll pay you back every single red penny.
But just like you expected:
YOU HAVE TO ACT NOW!
Why?
Well, each and every approval I do runs me roughly $500 in advertising costs.
And I can't do that for very long before increasing the price to $2300...$2500... or maybe even $3000 like everyone has been telling me.
Either way, if you're on this page...
...it means the $1997 $997 offer is still available.
But you want to act now. Not sit around waiting to "call my bluff".
Because when the price increases... people will still buy from me.
Except you'll have to pay more money for the same system you can get right now for thousands of dollars less.
Don't wait until later... act right now by filling in your billing details and clicking the submit button.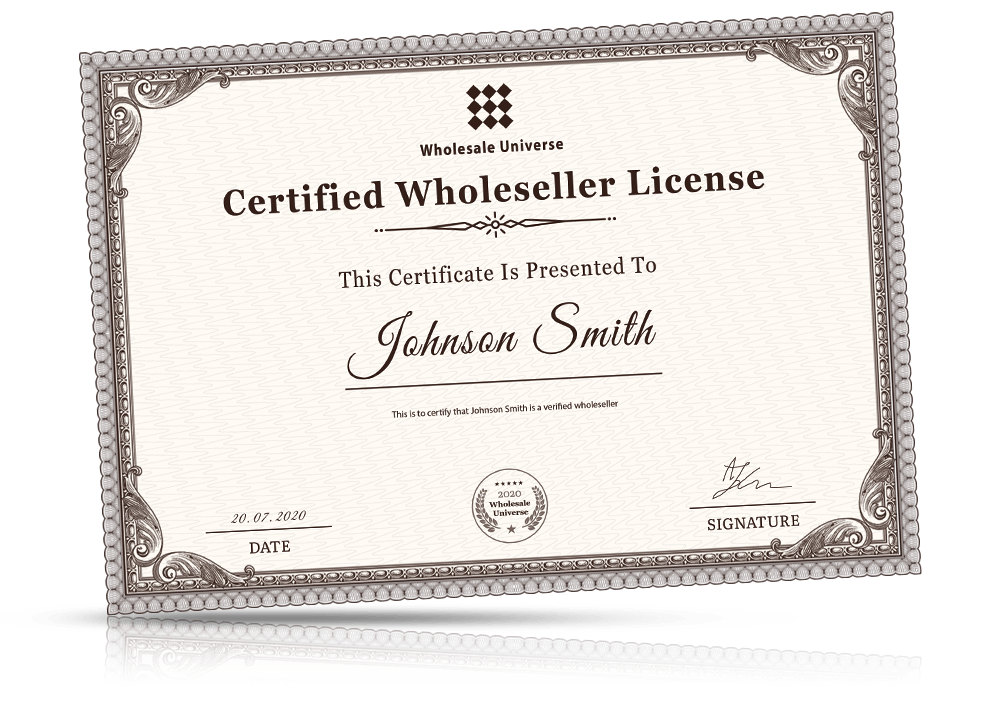 That's an easy one!
I want to blow you away with how hassle free the process of getting approved on Amazon is.
That way, you'll know I keep my word and deliver an excellent service.
So when I try to sell you something more expensive…
You'll already like and trust me.
Simple. Easy. 100% Transparent.
Too honest?
Well, it's the truth. I want to over deliver and blow you away with value.  
SO... Now The Choice Is Yours!
You can either do it yourself, face all the headaches and hassles and maybe you'll be approved...
… or maybe you won't.
If you're like me...
I would rather just pay an expert to do it who GUARANTEES a result OR THEY RETURN EVERY SINGLE PENNY BACK.
If that sounds good to you…
Then this is perfect for you!
So get it now while it's still available for $1997 $997 only.
It's a one time payment back with an IRONCLAD money back guarantee.
To Your Amazon Profits. 
Wholesale Universe
P.S. By letting me handle the process, you'll have three advantages: 
Guaranteed approval or your money back
You just sit back and let me do all the heavy lifting
I'm a verified and trusted wholesaler that's a PROVEN money maker. By letting me drop your name, you'll quickly gain the ability to sell brand name products on Amazon.
The truth is, it's not hard at all.
It's very simple... you just need to take action.